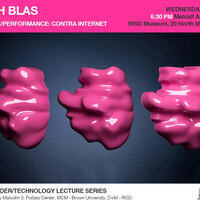 ZACH BLAS
Zach Blas: Contra internet
Known for his work at the intersections of technology, queerness and politics, artist and writer Zach Blas discusses the emerging militancies and subversions of 'the Internet'.

Bio:
Zach Blas is an artist and writer. Currently, he is a Lecturer in the Department of Visual Cultures at Goldsmiths, University of London. He has recently exhibited and lectured at Whitechapel Gallery, London; ZKM Center for Art and Media, Karlsruhe; e-flux, New York; the Institute of Modern Art, Brisbane; New Museum, New York; Museo Universitario Arte Contemporáneo, Mexico City; and transmediale, Berlin. He has two forthcoming books: Escaping the Face, to be published by Sternberg Press, and Informatic Opacity: The Art of Defacement in Biometric Times. His current art project Contra-Internet is supported by a 2016 Creative Capital grant in Emerging Fields.
//
Organized by the Brown MCM course Art/Gender/Technology.
Sponsored by Malcolm S. Forbes Center, Department of Modern Culture and Media, Brown University, and Department of Digital + Media, RISD.
More info write to: elisa_giardina_papa@brown.edu
Wednesday, May 11, 2016 at 6:30pm to 8:30pm
Metcalf Auditorium, Chace Center/RISD Museum, AUDITORIUM
Chace Center, 20 North Main Street, Providence, RI
Event Type

Departments
Subscribe