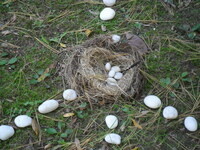 Wellness Through Mandalas
Mondays 7-8:30 p.m. starting 10-15-12 for six weeks.
"Making a mandala is a discipline for pulling all those scattered aspects of your life together, for finding a center and ordering yourself to it."
- Joseph Campbell
Mandalas are an ancient form of religious/spiritual/emotional art of the East. Today, as thousands of years ago, they are used to soothe the soul, improve wellness, and help focus the individual on desired activities and states of being. You will learn how to make mandalas that are meaningful to you. Practicing mandala making can help you maintain your sense of well-being, which is integral to personal development and academic
achievement. No prior experience or knowledge needed.
Monday, November 19, 2012 at 7:00pm to 8:30pm
Thompson House, Yoga/Meditation Room
63 Angell Street, Providence, RI
Event Type

Departments
Cost

One time fee of $20- for materials (six classes)

Hashtag

Subscribe