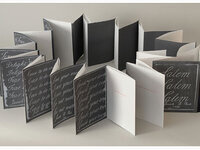 WATTS Lecture: Maureen Cummins, "Artist as Archivist."
Book artist Maureen Cummins will give a slide presentation of her work over the past two decades, which has involved the production of over thirty limited edition artist books. The artist will describe, with accompanying images, her working process, which has evolved from pirating the flea markets and dumpsters of New York City to working in numerous archives as an artist-in-residence. Cummins will also speak briefly about her initial delvings into the John Carter Brown Library collection.
Since graduating from Cooper Union in 1985, Maureen Cummins has cranked presses from California to the Eastern Arctic and produced over thirty limited edition artist book editions. She has done work based on slave narratives, turn-of-the-century homosexual love letters, and the Salem Witch trials. She is represented in over one hundred international public collections and recently received the prestigious Pollock-Krasner award.
Thursday, November 29, 2012 at 6:00pm to 7:00pm
John Carter Brown Library, MacMillan Reading Room
94 George Street, Providence, RI
Event Type

Tags

Website
Cost

Free

Hashtag

Subscribe