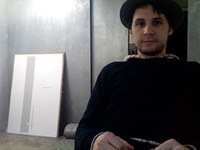 Visiting Designer Lecture: Stuart Bailey
The first lecture of four in the graduate graphic design program's visiting designer lecture series.
Stuart Bailey (Stuart Bertolotti-Bailey, born UK, 1973) is a graphic designer, writer and editor. In 2000 he co-founded the biannual left-field arts journal Dot Dot Dot with Peter Bilak. In 2006 he began working with David Reinfurt under the pseudonym Dexter Sinister, also the name of their 'just-in-time workshop and occasional bookstore' on New York's Lower East Side. Reinfurt supplanted Bilak as co-editor of Dot Dot Dot the same year, which continued under Bailey and Reinfurt's direction until the final, 20th issue in 2010 before morphing into Bulletins of the Serving Library, now co-edited by Bailey and Reinfurt together with Angie Keefer, and available online as well as in print. He has lived and worked in London, Amsterdam, New York and Los Angeles, and is now based in Liverpool, UK. Bailey studied typography and graphic communication at the University of Reading. He was one of the first participants to study at the Werkplaats Typografie (typographic workshop) in Arnhem, a postgraduate program headed by designer Karel Martens. In 2015 he received a PhD from the Fine Art Department of the University of Reading with a thesis titled Work in Progress: Form as a Way of Thinking. He is a Lecturer at the Haute école d'art et de design in Geneva, Switzerland.
Friday, February 24, 2017 at 6:30pm to 8:00pm
Center for Integrative Technologies (CIT), 103
169 Weybosset Street, Providence, RI