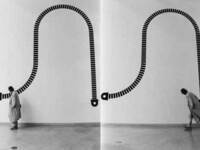 Visiting Designer: Ahn Sang-Soo
In 1983, Ahn Sang-Soo was named Designer of the Year by Design magazine; in 2004, Idea magazine declared him the most innovative designer in contemporary Korea.
Ahn is the founder of Ahn Graphics, a design firm and multimedia, advertising, and publishing house. He obtained his BFA and MFA in 1981 from Hongik University in Seoul, where he has taught typography since 1991. He received his PhD in 1996 from Hanyang University in Seoul and was awarded an honorary design doctorate in 2001 by Kingston University, London.
After college, Ahn worked for an advertising agency for five years; from 1981 to 1985 he was also an art director for Madang and Meot magazines. Since 1998, he has been the editor and art director of the underground art-culture magazine Bogoseo/Bogoseo (Report/Report). Ahn served as the 1999–2001 vice president of Icograda, the International Council of Graphic Design Associations, and was the chairman of the Icograda Millennium Congress 'Oullim 2000' in Seoul. He also chaired the organizing committee of TypoJanchi, the first biennale of Korean typography in 2001.
Ahn has been awarded many prizes and accolades for his work, including the 1998 Grand Prix at Zgraf 8 (the International Exhibition of Graphic Design and Visual Communication) and the 2007 Gutenberg Award by the City of Leipzig, Germany, for his services to the advancement of book arts. He is best known, however, for his typographical contributions to the Korean Hangul language.
Tuesday, November 27, 2012 at 6:00pm
RISD Auditorium
17 Canal Walk, Providence RI
Event Type

Departments

Website
Hashtag

Subscribe