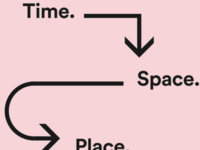 Time. Space. Place: Global thoughts and practices at RISD
"Time. Space. Place. Global Thoughts and Practices" showcases work by RISD students developed over the past year during short-term travel courses, semester-long programs, and faculty-led research-based initiatives. The drawings, sketchbooks, performances, videos, paintings, and objects collected here trace engagement with traditions and cultures of making, exchange with people, communities, and places around the world, and the process of understanding one's own practice in a broader global context. They demonstrate how global mobility takes form as artistic and design practice, as studio- and liberal arts-based research, as process, as performance, and as making itself.
Since our founding, RISD has included global programs and courses as part of its curriculum.In 1960 RISD became the first US art and design school to open a site outside of North Amerca:"RISD in Rome." Today, our global programs and initiatives promote: reciprocal exchanges of ideas and practices across cultures, borders, and languages through dialogue, debate, and immersive learning experiences; global engagements that broaden perspectives, decenter experiences, and reframe assumptions; and mobility that connects students, faculty, and partners with diverse traditions of, and approaches to, making across the world.
For centuries, mobility and engagement with the world have been central to artists' and designers' practice. Today, they are even more so. RISD alumna Shahzia Sikander recently wrote, "As the world we live in changes rapidly, it is even more urgent to think creatively and respond in a holistic manner to the complex realities of our times by integrating art and culture in our collective response." The works in this exhibition reflect the potential for artists' and designers' global engagement to create dialogues and ways of thinking that contribute to how we all respond to our ever-changing world.
Sunday, October 1, 2017 at 2:00pm to 5:00pm
Woods-Gerry Gallery
62 Prospect Street, Providence, RI
Event Type

Departments

Website
Cost

Free

Hashtag

Subscribe