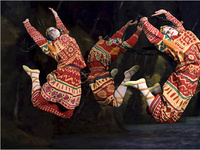 The Joffrey Ballet: The Rite of Spring
RISD students, staff, and faculty can get discounted tickets (limit 2
each with RISD ID) for The Joffrey Ballet: The Rite of Spring
performance.
These tickets retail for $48 and $58, but are just $5 for RISD students, and $10 for RISD staff/faculty!
Performance: Tuesday, March 19, 7:30 p.m., Providence Performing Arts Center (220 Weybosset St)
"...knocks you out with the sheer beauty, power and modernity of its dancing."—The Chicago Sun Times
Sparking
a riot that gave birth to modern music and dance, the original
Stravinsky and Nijinsky production premiered in Paris in 1913, and
forever changed the way audiences hear and see.
The Joffrey Ballet
has been hailed as "America's Ballet Company of Firsts." Forty-six of
their superb dancers will perform The Rite of Spring, paired with
thrilling contemporary works by two of the best choreographic minds of
the 21st century. Don't miss the first dance company to perform at the
White House at Jacqueline Kennedy's invitation, the first American
company to visit Russia, first to commission a rock 'n roll Ballet and
the only dance company to appear on the cover of Time.
Tickets can be picked up at Carr House front desk Monday-Friday between 8:30 a.m. and 4:30 p.m.
This program is sponsored by FirstWorks and CSI.
Tuesday, March 19, 2013 at 7:30pm
Providence Performing Arts Center 220 Weybosset Street, Providence, RI
Event Type

Departments

Website