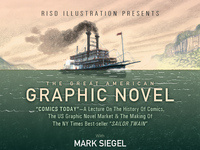 "The Great American Graphic Novel—Comics Today"
Mark Siegel is the award-winning author/illustrator of Sailor Twain and editorial director of New York-based First Second Books, publisher of acclaimed graphic novels such as Battling Boy, American Born Chinese and the recent NYT best-seller Primates, illustrated by '03 alumna Maris Wicks.
A lecture introducing the Graphic Novel market in the US, First Second books, the career outlook in today's marketplace, all in context of the history of comics up to the present day. In addition, Mark will speak about the making of his New York Times Best-selling graphic novel Sailor Twain.
http://www.firstsecondbooks.com/
Thursday, April 10, 2014 at 9:30am to 11:00am
RISD Museum, Chace Center Auditorium 20 North Main Street, Providence, RI 02903