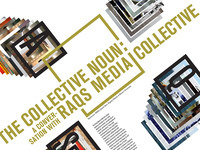 "The Collective Noun: A Conversation with Raqs Media Collective"
The Raqs Media Collective (Jeebesh Bagchi, Monica Narula, and Shuddhabrata Sengupta) is one of the most important collectives working in contemporary art and new media. Raqs (pron. rux) follows a self-declared imperative of 'kinetic contemplation' to produce a trajectory that is restless in terms of the forms and methods that it deploys even as it achieves a consistency of speculative procedures. Their work thus ranges from documentaries to installations, from curating to editing books, from staging theatrical events to collaborating with computer programmers. Their documentaries and time-based installations have been shown at all the major biennials, and they were co-curators of Manifesta 7, the European Biennial of Contemporary Art. They also helped found SARAI, a groundbreaking new media organization housed in the Centre for the Study of Developing Societies in New Delhi.
http://www.raqsmediacollective.net/
Please join us for a two-day, un-moderated conversation with Raqs on the nature of the collective as an artistic and political model, and the place of language and utterance in visual arts practice in "the collective living room" that is the main hall of RISD's gorgeous Beaux Arts Library.
Wednesday, March 20, 2013 at 6:30pm
RISD Library, Main Hall