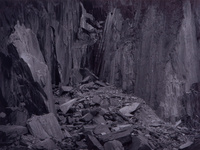 TC Colley Lecture Series: Thomas Joshua Cooper
Thomas Joshua Cooper (b 1946, USA) has travelled to some of the most isolated and far-flung locations across the globe, for the past 30 years, in order to create images using his 100 year-old Agfa camera and specially made photographic plates. Through an attention to the resonances of place, each work demands patient attention by the viewer to the contour and context of landscape, in its overwhelming natural similitude, and inevitable emplaced particularity.
Thomas Joshua Cooper, born in San Francisco, has lived in Scotland for the past twenty years, where he is Professor of Fine Art at Glasgow School of Art. During this time he has founded the only fine art photography course in the UK. Cooper has held over fifty solo exhibitions since 1971 across Europe and America, including in 2001, an exhibition at Tate St. Ives, and more recently, an exhibition at Haunch of Venison, London (2004), followed by exhibitions in 2005 at the Galerie Judin, Zurich, the Whitworth Art Gallery, University of Manchester, and Casa das Mudas Centro das Artes, Madeira. His work can be found in public and private collections around the world, including the Art Institute of Chicago; the J. Paul Getty Museum, Los Angeles; the National Gallery of Canada, Ottawa; the Arts Council of England, and the Victoria and Albert Museum, London.
Tuesday, February 19, 2013 at 7:00pm
Metcalf Auditorium, Chace Center/RISD Museum
Chace Center, 20 North Main Street, Providence, RI
Event Type

Departments

Website
Hashtag

Subscribe