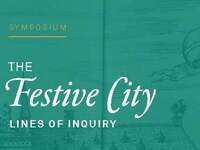 Symposium: The Festive City: Lines of Inquiry
Celebrating the exhibition The Festive City, this symposium welcomes leading art historians, historians, and visual artists in sharing presentations about the relationship between ephemeral events (such as firework displays and staged battles) and their documentation in books, prints, and paintings.
Additional support provided by the Andrew W. Mellon Foundation, and Brown University's Tabak Fund for Italian Studies and the Department of the History of Art and Architecture.
Reservations required, visit risdmuseum.org or call 401 709-8402.
Friday, March 1, 2013
Metcalf Auditorium, Chace Center/RISD Museum
Chace Center, 20 North Main Street, Providence, RI