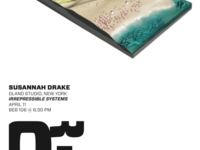 Susannah Drake: "Irrepressible Systems"
DLand Studio, New York
dlandstudio is an interdisciplinary design firm founded in 2005 by
Susannah C. Drake. Prior to starting an independent practice, Susannah worked for architects and landscape architects in New York, Cape Cod, New Hampshire, Wyoming and San Francisco. Exposure to diverse ecosystems, population densities, and scales of operation enriched her vision of what makes places truly special.
Thursday, April 11, 2013 at 6:30pm
BEB (Bayard Ewing Building), 106
231 South Main Street, Providence, RI
Event Type

Departments

Website