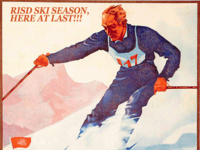 Stratton Mountain Ski:Snowboard Trip
Join the Ski:Snowboard club for a trip to Stratton Mountain in Vermont. Tickets can be purchased at the CSI front desk on the 2nd floor of Carr House from 8:30 am to 4:30 pm Monday- Friday.
- Bus only $30
- Bus & lift $50
- Bus, lift and equipment rental $75
Bus leaves ISB parking lot (in front of RISD store) @5:30 AM on Sunday January 12, 2014.
Bus returns at 9:00PM to ISB parking lot the same day.
Bring: Lunch and/or money, warm clothes (gloves,hat, etc), helmet, equipment
Please note: Ski and Snowboard trips are subsidized by the student activities fee. For this reason, the trips must be filled by students first. Faculty and staff are welcome to register themselves and one guest on the wait list in the event the trip is not filled by students. The prices for faculty/ staff and guest are bus only $45 each; bus & lift $80 each; Bus, lift, and equipment rental $110 each.
Sunday, January 12, 2014 at 5:30am to 9:00pm
Illustration Studies Building (ISB), Parking Lot
55 Canal Walk, Providence, RI
Event Type

Departments

Website