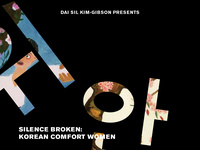 Silence Broken: Korean Comfort Women Film Screening and Conversation
On Wednesday, April 24th Silence Broken: Korean Comfort Women will be shown at the Chace Center Auditorium at 7 p.m.
A conversation with the filmmaker, Dai Sil Kim-Gibson will immediately follow.
Silence Broken: Korean Comfort Women, directed, produced and written by Dai Sil Kim-Gibson, is a powerful and graphic documentary film about these Korean women forced into sexual servitude by the Japanese Imperial Military during World War II. Silence Broken dramatically combines the testimony of former comfort women who demand justice for the "crimes against humanity" committed
against them with interviews of Japanese soldiers, recruiters, and
contemporary scholars. It has been shown on both South Korean television and nationally on PBS. TheVillage Voice called it "a wrenching and inventive film," the Wall Street Journal referred to its "searing testimony on a shameful chapter in military history."
To view the trailer, please visit:http://www.youtube.com/watch?v=n2kHnTRn4d8
Free and open to the public.
This event is sponsored by the Division of Liberal Arts, Student Affairs, and the Center for Student Involvement.
Wednesday, April 24, 2013 at 7:00pm to 9:00pm
Metcalf Auditorium, Chace Center/RISD Museum
Chace Center, 20 North Main Street, Providence, RI