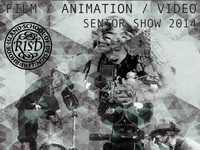 Senior Show: Film / Animation / Video
The Rhode Island School of Design will present its Film / Animation / Video Festival from May 9-18, 2014. This year's festival premieres the work of 47 RISD seniors. These works often go on to garner awards and critical recognition in venues worldwide.

The show opens on Friday, May 9 at 7:00 pm with a gallery exhibit of interdisciplinary works at 90 Weybosset St & 60 Orange St. The film screenings will occur at the Main RISD Auditorium at One Market Square, Tuesday through Saturday nights May 13-17 at 7:00 pm, and Sunday May 18 at 2:00 pm.

The films in Program A will screen on Tues, May 13 and be repeated on Fri, May 16.
The films in Schedule B will screen on Wednesday, May 14 and be repeated on Saturday, May 17.
The films in Schedule C will screen on Thursday, May 15 and be repeated on Sunday, May 18.

Admission to the gallery is free; tickets to the film screenings are $5.00 for general admission, $3.00 with a RISD ID (or other student ID). For advance ticket orders, email rpaiva@risd.edu with the desired date(s) and number of tickets. All tickets are to be picked up and paid for at the door.
TUESDAY/FRIDAY SCHEDULE
Lynn Kim "Toro" 3:30
Robert Verdino "Crossing Lanes" 2:59
Siri Borgen "The Death and Life of Norman Bailey" 27:00
Leslie Tanaka "Nice to Meet You" 3:27
Caitlin Trudell "Ex Nihilo" 2:43
Leila Mrakovcich "As Caras do Brasil (The Faces of Brazil)" 26:09
***15 min. intermission***
Joshua Sehnert "Mr. Piggy Dies in 25 Dimensions" 15:48
Brandon Tyson "La Maison Royale" 24:48
Rio Roye & Advait Thakur "Image & Object" 11:52
Ashton Agbomenou "Doubting Tomas" 23:20
WEDNESDAY/SATURDAY SCHEDULE
Ed Choi "Sunflower" 17:33
Alex Kim "Paper-Plane" 4:45
Grace Kraft "First Flight" 3:11
LauraBeth Rodzinak "Pocketful of Posies" 18:05
Annabel Ruddle "Beat the Bully" 14:48
***15 min. intermission***
Esther Hayes "The Skinny Fries Left Over" 13:56
Leigha Phillips "Circadia" 2:44
Maryann Guerzon "Answering the Call" 2:08
Carolyn Colton "Operation: TWIRL" 19:23
Matthew Jeon "Composition (3)" 11:14
Harry Field "Blue Shoes" 19:33
THURSDAY/SUNDAY SCHEDULE
Terrance Harden "Recall the Motive" 5:31
Harry Farrar "The Chameleon" 7:05
Brent Sievers "The Divide" 3:51
Jordan Wong "Don't Worry, I'll Do It" 4:18
Kelly Scruggs "Is This the Party?" 2:38
Rolland Leung "Are You Edible?" 5:24
Sara White "Hoax Buddies" 2:02
Elizabeth Chun "PLEASE HELP ME I'M LOST" 4:18
Alex Lee "Listening Waiting" 2:41
John Kim "Technica, a Rhapsody in Binary" 3:14
Lena Greene "Welcome to Fantasy Island" 3:28
Annie Zhao "Babyfaced" 6:25
Sam Bellamy "Black Earth" 3:05
Simeon Kondev "Ladies' Night" 3:35
Maryann Guerzon "Answering the Call" 2:08
Leigha Phillips "Circadia" 2:44
Grace Kraft "First Flight" 3:11
Alex Kim "Paper-Plane" 4:45
Caitlin Trudell "Ex Nihilo" 2:43
Leslie Tanaka "Nice to Meet You" 3:27
Rob Verdino "Crossing Lanes" 2:59
Lynn Kim "Toro" 3:30
Joshua Sehnert "Mr. Piggy Dies in 25 Dimensions" 15:48
Saturday, May 17, 2014 at 7:00pm
RISD Auditorium
17 Canal Walk, Providence RI