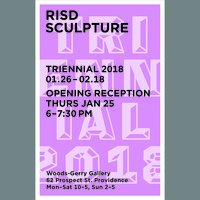 EXHIBITION | SCULPTURE TRIENNIAL
The 2018 Sculpture Triennial reflects the experimental and interdisciplinary nature of the Sculpture Department. This exhibition is structured to illuminate the importance of dialogue and collaboration among students with varying levels of experience. The organizing principle of the exhibition was put into practice by forming small working groups of sophomores, juniors, and seniors. Each group developed a common conceptual theme and created individual works in dialogue with this theme. This process not only prompted deeper meanings and connections to emerge amongst each grouping of artwork but also created the conditions that allowed all the artists to benefit from witnessing the process of their peers.
Sculpture can be limitless in possibilities, as it is a genre that reaches out across disciplines, while challenging spatial and temporal notions, and pushing material concerns. However, there must be a departure point that initiates the process of making. The following themes compose the structure of this exhibition: multiplicity of balance; temporality and impermanence; modularity and site-specificity; systems of power, of oppression, of economies, of narratives/central shared power source; sculpture engulfs space; tactility and playfulness; interaction with systems and the otherworld; the body and its surroundings; a collection of artifacts, speculative and familial; and finally, rumbly tumbly, or synthesis of form in motion.
Wednesday, February 21 at 10:00am to 5:00pm
Woods-Gerry Gallery
62 Prospect Street, Providence, RI
Event Type

Departments

Website
Cost

Free

Hashtag

Subscribe