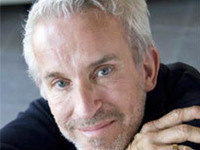 Roger Thomas, Design Alchemist
RISD is proud to welcome Roger Thomas, Executive Vice President of Design, Wynn Corporation Las Vegas. Thomas created the interiors of Wynn Las Vegas and Encore at Wynn Las Vegas, An internationally recognized leader in interior design for the hospitality industry, Roger Thomas is executive vice president design for Wynn Design and Development. He created the interiors of Wynn Las Vegas and Encore at Wynn Las Vegas.
Mr. Thomas was elected to the Hospitality Design Platinum Circle and was listed in Architectural Digest's AD 100. In 2008 Mr Thomas was named "Designer of the Year. In in recognition of his significant career achievements in the field of casino resort interior design. Mr. Thomas serves as a Trustee of DIFFA (Design Industries Foundation Fighting Aids).
An avid supporter of the arts, Mr. Thomas is the founder of the Bank of America Nevada Fine Art Collection, the largest art collection in a financial institution in Nevada. He served on the boards of the Nevada Museum of Fine Arts, Neon Museum in Las Vegas, Nevada Institute for Contemporary Art, Nevada Ballet Theater and the Wheelwright Museum Santa Fe, New Mexico. He is was a Trustee of the Las Vegas Art Museum and is currently a member of the Las Vegas Performing Arts Center Foundation Board. Additionally, he has taken an active role in the arts architecture of the city, county and state throughout his professional career.
Mr. Thomas is a graduate of Interlochen Arts Academy and The School of the Museum of Fine Art in Boston, MA. He received a BFA in Art History from Tufts University. His work has been published in leading journals, including Architectural Digest, Elle Décor, Interiors and Hospitality Design.
Wednesday, November 20, 2013 at 7:00pm
RISD Auditorium
17 Canal Walk, Providence RI
Event Type

Departments

Website