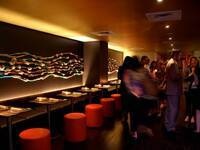 RISD/NY Holiday Book Signing and Cocktail Party
Here's a chance to check off some items on that holiday shopping list and wish your RISD friends the best of the season! There'll be complimentary eats and cash bar with beer + wine specials
Meet Ken Druse 72 FAV
Natural Companions: The Garden Lover's Guide to Plant Combinations.
cost: $40, cash or check.
Ken is a writer, radio host, and the award winning author of 18 lavishly illustrated gardening books called "bibles for the serious gardeners" by the New York Times.
Meet Mira Evnine 06 BArch, Hannah Kirshner 06 PT,
and Isaac Gertman MFA 08 GD
Sweets & Bitters Quarterly.
cost: $16/issue, $60/yearly subscription, cash or credit cards.
This new publication, a product of several RISD alumni, offers a beautiful and practical vision of the good life, printed as a seasonal mini-cookbook.
Meet Fiona Gardner 99 PT
Meet Miss Subways
cost: $24.95, cash, checks or credit cards.(Cash or check preferred)
A new photographic essay of a competition that was held in New York for more than three decades, ending in the 1970's. A show of Fiona's work is currently at the Brooklyn Transit Museum.
Meet Stephen Talasnik 76 PT
Floating World
cost: $30, cash only.
A beautiful new book depicting Stephen's installation of 40 floating sculptures at the Denver Botanical Gardens. Also included are drawings and other site specific installations most recently at the Storm King Center. Stephen's works are included in numerous museum collections including the Metropolitan Museum of Art (NY), the British Museum, the National Gallery of Art (DC), the Whitney, and the Albertina in Vienna.
Tuesday, December 11, 2012 at 6:00pm to 8:00pm
North side of Madison Square Park, 19 East 26th Street
Event Type

Departments
Hashtag

Subscribe