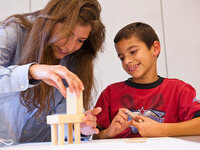 RISD Young Artist Winter Vacation Camps
Kids and teens ages 6-17 are invited to full-day vacation camps the week of February 20-24.
Camps include:
Game On! (Ages 6-12; 9:00 a.m. - 4:00 p.m.; Tillinghast Farm)
Unnatural Selections: Animals, Plants, Brushes + Bits (Ages 13-17; 9:00 a.m. - 4:00 p.m.; RISD Campus)
Visit http://cereg.risd.edu for more information and to register.
Friday, February 24 at 9:00am to 4:00pm
Event Type

Departments

Website