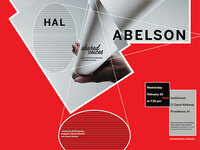 RISD Shared Voices: Hal Abelson
In the age of information, universities should be at the forefront of preserving and strengthening our information commons – the shared wellspring of ideas and innovation from which everyone may draw.
A leader in the global movement to democratize intellectual resources, Harold (Hal) Abelson is actively engaged in several nonprofit organizations dedicated to promoting open access to information. He is a founding director of Creative Commons, a copyright licensing operation designed to maximize digital creativity and sharing, and of Public Knowledge and the Free Software Foundation.
Abelson earned a PhD in mathematics from MIT and now teaches at his alma mater as the Class of 1922 Professor of Electrical Engineering and Computer Science. As co-director of the MIT-Microsoft iCampus Research Alliance in Educational Technology, co-chair of the MIT Council on Educational Technology and a member of the steering committee of the HP-MIT Alliance, he plays a key role in fostering institutional educational technology initiatives such as MIT OpenCourseWare and DSpace.
Abelson's interest in information technology and policy has led to such courses as Ethics and Law on the Electronic Frontier, among others. He also collaborates in directing the Decentralized Information Group at the MIT Computer Science and Artificial Intelligence Laboratory, where he is investigating web privacy issues and developing a new approach to privacy based on information transparency and accountability rather than control of access. Among his many books, he co-authored Blown to Bits (2008), which looks at the cultural and political disruptions triggered by today's information explosion.
Wednesday, February 20, 2013 at 7:30pm
RISD Auditorium
17 Canal Walk, Providence RI
Event Type

Departments

Website
Hashtag

Subscribe