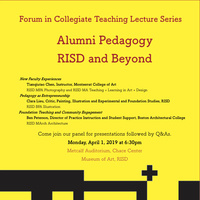 Panel discussion | RISD alumni
The TLAD department (Teaching + Learning in Art + Design) invites you to join us for a panel discussion with RISD alumni Tianqiutao Chen, Clara Lieu 98 IL and Ben Peterson MArch 09.
Tianqiutao Chen, RISD MFA Photography and MA Teaching + Learning in Art + Design, presently Instructor at Montserrat College of Art, will discuss New Faculty Experiences.
Clara Lieu, RISD BFA Illustration, presently Critic, RISD Painting, Illustration, Experimental and Foundation Studies, will discuss Pedagogy as Entrepreneurship.
Ben Peterson, RISD MArch Architecture, presently Director of Practice Instruction and Student Support, Boston Architectural College, will discuss Foundation Teaching and Community Engagement.
This is a qualifying lecture for grad students pursuing a Collegiate Teaching Certificate. It is from the Forum in Collegiate Teaching Lecture Series.
free and open to the public
Monday, April 1 at 6:30pm to 7:30pm
Metcalf Auditorium, Chace Center/RISD Museum
Chace Center, 20 North Main Street, Providence, RI
Event Type

Departments
Subscribe