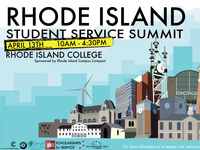 Rhode Island Student Service Summit
5th Annual Rhode Island Student Service Summit
Re-Imagining Citizenship
Developing the next generation of social innovators and active citizens
Hosted by the Feinstein School of Education
Rhode Island College, Student Union
600 Mount Pleasant Ave, Providence, RI
Saturday, April 13th, 2013
10:00am – 4:30pm
Keynote Speaker: Nancy Thomas, Director of the Initiative for the Study of Higher Education and Public Life, Center for information & Research on Civic Learning and Engagement (CIRCLE)
Designing Public Art Projects. Championing Environmental
Sustainability. Tutoring & Mentoring Youth. College students contribute to their communities in productive and engaged ways; as
active citizens they are change-makers in the world.
Join Rhode Island Campus Compact and 100 college and
university students for the only statewide conference focused on leadership in community-based service. Through a variety of workshops and presentations, participants will explore the impact of community involvement on academic learning and create opportunities for cross-campus collaboration.
Here's a glimpse of this year's workshops:
Translating the Local to the Global
Healthy Communities
Public Service for Professional Growth
Inspiring Young Minds: Kids in Service
Realizing Student Impact: Campus Citizenship
Constructing Community Space
Democracy from the Ground Up
Social Entrepreneurship
Please contact communityservice@risd.edu to coordinate transportation.
We promote sustainable practices. Please bring a water bottle to
refill throughout the day. Business casual dress is recommended.
Saturday, April 13, 2013 at 10:00am to 4:30pm
600 Mount Pleasant Ave, Providence, RI
Event Type

Departments

Website