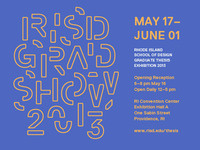 Rhode Island School of Design Graduate Thesis Exhibition 2013 opening reception
Open to the public, RISD's annual Graduate Thesis Exhibition features work in a wide range of media created by the master's degree candidates graduating in 2013. Each student showcases a final body of work produced as the culmination of his or her experience in one of RISD's 16 graduate departments: Architecture, Ceramics, Digital + Media, Furniture Design, Glass, Graphic Design, Industrial Design, Interior Architecture, Jewelry + Metalsmithing, Landscape Architecture, Painting, Photography, Printmaking, Sculpture, Teaching + Learning in Art + Design, and Textiles.
With custom-constructed galleries within the large exhibition hall, students are given the opportunity to showcase multiple pieces or large installations from their thesis work – the manifestation of two or three years of research, experimentation, critical thinking and honing of their craftsmanship and expressive capabilities.
Thursday, May 16, 2013 at 6:00pm to 8:00pm
Rhode Island Convention Center, Exhibition Hall A
1 Sabin Street Providence, RI
Event Type

Departments

Photography, Division of Graduate Studies, Campus Exhibitions, Architecture, Ceramics, Digital + Media, Furniture Design, Glass, Graphic Design, Industrial Design, Interior Architecture, Jewelry + Metalsmithing, Landscape Architecture, Painting, Printmaking, Sculpture, Teaching + Learning in Art + Design, Textiles

Website