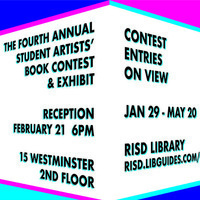 Reception for the 4th Annual Student Artists' Book Contest + Exhibit
Don't miss the reception for the 4th Annual Student Artists' Book Contest + Exhibit. Find out which entries are this year's winners, learn more about the work, and walk through the exhibit to see all of the impressive projects! Food and fun provided!

Reception starts at 6 pm in room 228 (RISD Library, 2nd floor).

Each year, Special Collections at RISD Library hosts a juried student artists' book contest to promote engagement with the book arts, investigation of the Library's artists' book collection, and creative production in the book form at RISD. The contest and accompanying exhibition attract between 30 to 50 submissions from RISD undergraduate, graduate, and continuing education students. All of the entries are displayed in the annual Library exhibit. A team of RISD faculty members and professional artists serves as jurors, selecting prize winners from the submissions. All prizes are purchase awards, and the selected student-made artists' books become part of the Library's collection. This year is the 4th installment of this program.

Entries will be on view on the 1st floor of the Library from January 29-May 20, 2018.
Wednesday, February 21, 2018 to 8:00pm
Fleet Library (Main), 228
Mandle Building, 15 Westminster Street, Providence, RI