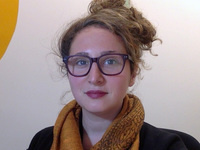 RISD GLASS VISITING LECTURE SERIES SPRING 2017: Rebecca Uchill
Rebecca Uchill is an art historian and independent curator whose work focuses on the institutional conditions for art production, display and dissemination. At MIT, Uchill is Mellon Postdoctoral Fellow with the Center for Art, Science & Technology, where she is co-chair of BEING MATERIAL, the second CAST symposium. She is also co-editor, with Caroline A. Jones and David Mather, of the first CAST publication, Experience: Culture, Cognition, and the Common Sense (MIT Press, 2016). In addition to working as co-editor and author for the volume, she was the curator of its many multi-sensorial artist entries.
Her present research into the modern construct of landscape is the basis for the course Landscape Experience, being co-taught with Caroline A. Jones at HTC during fall semester, 2016. Uchill began this research while working with Gavin Kroeber on a workshop (also with the title Landscape Experience) organized at Mildred's Lane in summer, 2016. In association with the MIT course, Uchill was awarded Alumni Class Funds and Center for Art, Science & Technology class grants to lead student field work in the Southwest United States over the summer of 2016. Also in connection with the course, Uchill is organizing the upcoming 2017 Lavine Lecture at the List Visual Arts Center, focusing on land art conservation and environmental change: Nature is Never Finished, on November 10, 2016 is free and open to the public.
Uchill has worked as a curator and curatorial consultant at institutions including the Carpenter Center for the Visual Arts at Harvard University, the Decordova Sculpture Park and Museum, the Indianapolis Museum of Art, and MASS MoCA. She is a former program committee member for the International Network for the Conservation of Contemporary Art-North America. As visiting faculty at Tufts University/The Museum School in 2013, she taught the course "Museum as Producer," focusing on the history and theory of museums. She is author and editor of On Procession: Art on Parade (Indianapolis Museum of Art, 2009) and Adrian Schiess: Elusive (Klaus Kehrer Verlag, 2007), and has published articles in Future Anterior, Journal of Curatorial Studies, ASPECT: The Chronicle of New Media Art, Museum and Curatorial Studies Review, Visual Resources: An International Journal of Documentation, and Art Papers.
Uchill is co-founder (with Gavin Kroeber) of the event-based-research/curatorial collective Experience Economies. Since 2010, Experience Economies has produced encounters across disciplines in scholastic, artistic and activist arenas. Past projects include a forum on immigration with Tania Bruguera's Immigrant Movement International in the context of Occupy Boston (2011), a bus tour of artistic engagements with Boston's "landscape" of innovation produced while Cultural Producers in Residence at The Lab at Harvard (2012), and At Home He's A Tourist, a series of unorthodox conversations about historical erasure, placemaking, and locality staged for the 2014 One Architecture Week in Plovdiv, Bulgaria. In the summer of 2015, Experience Economies led a two-week session on the topic/problem "Landscape Experience" at Mildred's Lane, featuring contributions by Damon Rich, Karinne Syers, James Trainor, Hope Ginsburg, Mark Tribe, Gina Siepel, Pablo Helguera, and many others.
Rebecca holds a BA, Summa Cum Laude, in Individualized Studies from the Gallatin School at New York University. She received her MA in Art History from Williams College. She completed her PhD at MIT. Her dissertation research was awarded fellowship support from the Social Science Research Council, the Deutscher Akademischer Austauschdienst, the New England Society of Architectural Historians, and the Berlin Program for Advanced German and European Studies.
Wednesday, April 12, 2017 at 1:10pm
College Building, Old Library, CB521
2 College Street, Providence, RI 02903
Event Type

Departments

Website
Cost

free

Hashtag

Subscribe