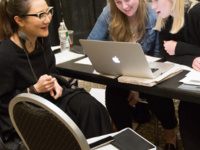 Learning Session | Prep to Connect | RISD Careers
Hear everything you need to know to meet with companies at Internship Connect on October 11. Learn how to speak with them professionally. Discover what they expect from you. Determine what materials you should bring and leave behind. Hear the best ways to follow up with them. Find out how to successfully use LinkedIn to research companies and network before and after Internship Connect.

Mobile Users: Click the 'Website' link you see below and then click 'RSVP here!' when you arrive at the new website window.


Monday, October 2, 2017 at 6:30pm to 8:00pm
Chace Center Auditorium