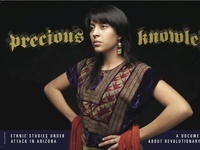 Precious Knowledge: Screening and Discussion with filmmaker, Eren McGinnis, and teacher-activist, José Gonzalez
Hailed as "downright revelatory" when it first came out in 2011, Precious Knowledge provides an insider's perspective on a historic battle over civil rights. The documentary follows the stories of students in the Mexican American Studies Program at Tucson High School who fight to save their classes in the face of official criticism that such programs are divisive and anti-American. While 48 percent of Mexican American students currently drop out of high school, Tucson High's Mexican American Studies Program has become a national model of educational success, with an average of 93 percent of student graduating high school and 85 percent going on to attend college. The filmmakers spent an entire year in the classroom filming this innovative social justice curriculum and documenting its transformative impact on students who become engaged, informed and active in their communities.
Precious Knowledge is timely as the nation turns its focus toward a wave of anti-immigration legislation in Arizona, with other states planning to follow suit. The film chronicles the ideological and political divides that shape views on ethnicity and ethnic identity in the U.S. today and provides vital models for grassroots political organizing and social justice-oriented filmmaking.
Monday, March 11, 2013 at 6:30pm to 8:30pm
Chace Center Auditorium 20 North Main Street