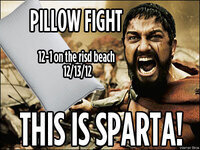 Pillow Fight
The Pillow Fight has been rescheduled from Finals Destination Week! Get that stress out. Join in the fun or watch your friend battle it out!
Come to the RISD Beach between 12:00 and 1:00 p.m. on Thursday, December 13 for a friendly pillow fight!
RULES OF PILLOW FIGHT:
• NO HITS TO THE HEAD
• ONLY THE PILLOWS PROVIDED MAY BE USED FOR BATTLE
• MODERATORS MUST BE LISTENED TO BY ALL PARTICIPANTS AT ALL TIMES AND RESERVE THE RIGHT TO:
o REMOVE PEOPLE FROM THE PILLOW FIGHT AT ANY TIME WITHOUT WARNING
o END THE PILLOW FIGHT AT ANY TIME
• ONLY 30 PEOPLE IN THE FRAY AT ANY ONE TIME
• NO WHINING!!!
THIS IS SPARTA!!!!!
Participate at your own risk.
Hot chocolate and cookies will be served.
Sponsored by CSI, Residence Life, and ISE.
Thursday, December 13, 2012 at 12:00pm to 1:00pm
Event Type

Departments
Hashtag

Subscribe