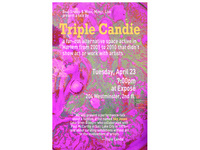 Triple Candie Performance/Talk at Exposé
Triple Candie's gallery was open in New York for nine years. They did not show art or work with artists. They're coming to RISD to talk about alternative spaces, and you're going to want to be there.
See poster for more details (click to enlarge).
Presented by Grad Studies and "Work, Money, Love"
Tuesday, April 23, 2013 at 7:00pm
Exposé / Eship , 2nd floor
204 Westminster Street, Second Floor, Providence, RI