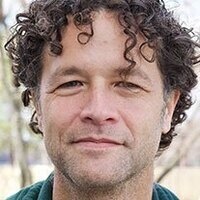 Visiting Artist | Paul Ramirez Jonas
Since the 1990s, Paul Ramirez Jonas MFA 89 PT has sought to challenge the relationship between artist, viewer and artwork. Many of his projects invite viewer participation. His most recent large public work, Public Trust, asked participants to examine the value of their word, making promises that were recorded in drawings. Whimsical and sincere, Jonas thinks of his works as monuments rather than as sculptures: situations that address a public, often without an author, and communicate collective ideals, histories and dreams.
Jonas has exhibited work in solo shows at The New Museum, NYC; Pinacoteca do Estado, Sao Paulo, Brazil; The Aldrich Contemporary Art Museum, Ridgefield, CT; The Jack S. Blanton Museum of Art, Austin, TX; Ikon Gallery, (UK; and Cornerhouse, UK. He participated in the first Johannesburg Biennale; the first Seoul Biennial; the sixth Shanghai Biennial; the 28th Sao Paulo Biennial; the 53rd Venice Biennial and the seventh Bienal do Mercosul, Porto Alegre, Brazil. In 2010 his Key to the City project was presented by Creative Time in cooperation with the city of New York. In 2016 his Public Trust project was presented by Now & There in Boston. The Contemporary Art Museum Houston presented a 25-year survey of his work in 2017. He is currently an associate professor at Hunter College, CUNY.
Tuesday, February 27, 2018 at 1:00pm to 2:00pm
Center for Integrative Technologies (CIT), 400 (4th floor)
169 Weybosset Street, Providence, RI