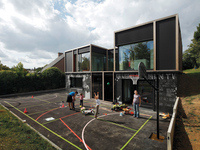 Outtakes from The Greenest Home
This exhibition highlights the latest in Passive House design and features case studies that illuminate building techniques, materials, and ventilation systems used in this highly-efficient form of construction. The performance of these homes is a testament to both the utility of energy modeling software (PHPP) and of high-quality building practices. Outtakes from the Greenest Home places special emphasis on thermal imagery to reveal the hidden pathways of heat transmission, thus raising awareness of the inadequacy of standard construction with a single picture. Because monitoring the performance of homes and sharing data is essential to the Passive House movement, this exhibition also includes elements of this frequently undervalued aspect of design.
­­­­­
Most of these projects come from the rapidly-expanding North American scene, but this show also exhibits projects from Belgium, a global leader with over 11,600,000 sf of Passive House construction in the past 8 years. Moreover, Brussels has issued a 2015 Passive House mandate for all new works in the region, surpassing even the ambitious targets of the EU, which requires all new construction to be nearly-Zero Energy Buildings (nZEBs) by 2020.
Credits:
The exhibition is based on material gathered from The Greenest Home: Superinsulated and Passive House Design book (Princeton Architectural Press 2013) by Julie Torres Moskovitz and includes work by: Key Architects, Studio 804, ISA and Postgreen, Onion Flats, Fabrica718, LoadingDock5, Ryall Porter Sheridan Architects, Ken Levenson and Douglas Mcdonald, ZeroEnergy Design, Dennis Wedlick Architect, ARO and Della Valle Bernheimer, BriggsKnowles A+D, Diethelm & Spillmann Architekten, Karawitz Architecture, Treberspurg & Partner Architekten, Marken Projects and Durfeld Constructors, BLAF Architecten, and Olson Kundig Architects.
Exhibition Team: Julie Torres Moskovitz/Fabrica718, Laura Briggs, David Alan Ross, Eylul Kethuda Wintermeyer, Gina Farkas, Shauni Lin, Natalie Kruch, and Whitney Boesl
Graphic Design: WSDIA
Book Design: Princeton Architectural Press
Thursday, April 3, 2014 at 9:00am to 5:00pm
BEB (Bayard Ewing Building), Gallery
231 South Main Street, Providence, RI