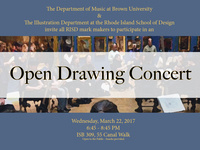 Open Drawing Concert
The Department of Music at Brown University and the RISD Illustration Department invite all RISD mark makers to participate in an Open Drawing Concert. 13 Classical musicians from Brown University will perform.
Snacks will be provided.
Wednesday, March 22, 2017
6:45 - 8:45PM
ISB 309
55 Canal Walk
Come draw the musicians as they play!
Wednesday, March 22, 2017 at 6:45pm to 8:45pm
ISB Gallery, ISB 108 55 Canal Walk