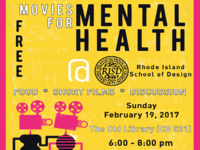 Movies for Mental Health
Short films, discussion, panel of speakers, and free dinner!
This workshop will use film and media to initiate dialogue on the topic of mental health, and reflect on how the messages we receive from the media influence our perceptions of mental illness. The main goal of the workshop is to reduce stigma around mental health issues and mental illness, creating a culture in which we can speak openly about our experiences.
Brought to you by: CAPS, Wellness Task Force, and Art with Impact
Sunday, February 19, 2017 at 6:00pm to 8:00pm
Old Library in College Building, CB 521