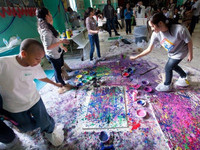 MLK Series: MLK Day of Service
As part of the MLK Celebration Series, RISD and the Community Service Office are pleased to present the 6th Annual MLK Day of Service.
SAVE THE DATE:
MONDAY JANUARY 16
Martin Luther King, Jr. Day of Service presents:
The Impact of Service and the Arts

RISD Community Service is seeking volunteers and leaders for the annual MLK Day of Service. Sign-up for the Day of Service will be available and released the week of January 4 but please mark your calendar now!

As a reminder RISD classes are cancelled on MLK Day, so you don't have to worry about academic conflicts.

Due to amazing interest from the RISD Community this year's project will include three great community partners!

Site 1: Mt. Hope Learning Center & MLK Elementary School
For the 6th Year in a row RISD & the Mt. Hope Learning Center will once again partner for a special Day of Service event. The day will include running arts and crafts workshops for local children and engaging them with games, activities, and conversation. The day also includes other special projects at the school and a series of celebratory performances. Volunteers will have a chance to work with some really enthusiastic children, and hear about their interests in art.

Site 2: Dorcas International Institute of Rhode Island
For the 2nd year in a row RISD will partner with DIIRI on an event that includes arts, crafts, and activities for youth. It will also include a clebration of the wonderful diveristy and cross-cultural makeup of Providence and the South Side.

Food, t-shirts, and transportation will be provided.

If you have any questions or would like to learn about becoming a station leader please email CommunityService@risd.edu. This event is part of the MLK Celebration Series. Click here for more information.

We hope you will join us for this special day that, in the spirit of Dr. King, seeks to use service as a mechanism for inspiration and social change.
8:30AM - 2:30PM: Dorcas International Institute of Rhode Island
8:30AM - 2:30PM: Mt. Hope Learning Center
Monday, January 16, 2017 at 8:30am to 2:30pm
Event Type

Departments

Website