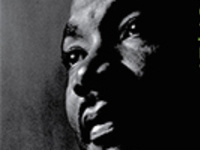 MLK Series: Public Critique Panel (featuring Emory Douglas) of the Student Exhibit ISMS: A Conversation about Identity
RISD Global Initiative and the MLK Celebration Series are please to bring Emory Douglas to campus in an effort to create a series of special events focused on both his life and expereince as well as important social topics like identity, equity, and activism.
As part of the visit Emory Douglas will be here on Thursday January 19 for a series of campus special campus events. Specific details about the day will be released shortly.
This will culminate in the Public Critique Panel (featuring Douglas) of the student run/curated exhibit "-ISMS: Exploring the Intersectionality of Identity." Throughout the fall semester Global Initiative will be providing more information about how you can get involved in this show.
Information on the MLK Series can be found here.
RISD Gloabl Initiative is a student organization dedicated to increasing local and global awareness and action among their peers.
Thursday, January 19, 2017 at 7:00pm to 9:00pm
Chace Auditorium 20 North Main St Providence, RI 02903
Event Type

Departments

Website