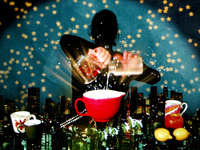 Miwa Matreyek's Glorious Visions Screening and Talk
Come preview Miwa Matreyek's work in an interactive screening and discussion at the Chace Center at 7 p.m.
A TEDGlobal 2010 speaker, graduating from CalArt's Experimental Animation program with an MFA in 2007, Miwa Matreyek is an animator, designer, and multimedia artist working in Los Angeles. She creates short films as well as works that integrate animation and live performance/installation via projection. Matreyek is interested in how animation transforms when it is combined with body and space (and vice versa) and takes on a more physical and present quality, while body and space take on a more fantastical quality. Miwa also will perform as part of the FirstWorks Festival Pixilerations concerts at Brown University's Granoff Center on October 12 & 13 at 8 p.m.
Wednesday, October 10, 2012 at 7:00pm to 9:00pm
Metcalf Auditorium, Chace Center/RISD Museum
Chace Center, 20 North Main Street, Providence, RI
Event Type

Departments

Website
Hashtag

Subscribe