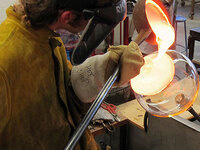 Glass Hot Shop: Senior Thesis
Seniors in the glass department will lead experiments in the hot shop as part of their thesis work.
RISD Glass initiated Hotnights as a means of cultivating a greater understanding of glass and its significance to an array of disciplines. Through a series of hot shop demonstrations, projects, and workshops, Glass faculty and students partner with the larger community to research and experiment the intersection between glass and its ubiquitous presence in the world. Hotnights has led to significant developments combining emerging digital fabrication technologies with traditional glass processes, investigations of optical properties of glass and light, and has collaborated with student groups to assist in the fabrication of ambitious cross-disciplinary projects amongst others.
Wednesday, May 17, 2017
METCALF BUILDING, Hot Shop, Floor 4