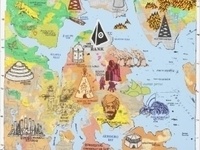 Locally Made
On view at the RISD Museum through November 3, 2013
with daily One Room events

Recent acquisitions to the Museum's collection, video works, performance art and creative experiments—all by local artists—expand across three gallery spaces in Locally Made. Paintings, sculptures, prints, drawings, and photographs—most on view for the first time—fill the Upper Farago Gallery. In the Spalter New Media Gallery, guest curator Dina Deitsch (Contemporary Art Curator, deCordova Museum) has selected works by local filmmakers that find common ground in a shared exploration of materiality through the moving image.

The Museum's Lower Farago Gallery is transformed into a multifaceted experimental space—One Room—with roots in New England's long tradition of community storytelling, performance, and knowledge sharing. Invited artists, designers, performers, brainiacs, and other community members participate in daily talks, creative experiments, art demonstrations, and unexpected happenings. View the complete schedule of One Room events at risdmuseum.org/calendar.

Locally Made is supported by Dr. Joseph A. Chazan and Robert and Judy Mann.

RISD Museum, 224 Benefit Street, Providence, RI. For more information, visit risdmuseum.org.
Image: Brian Chippendale, Providence 2046, 2005. Museum purchase: Gift of the Artists' Development Fund of the Rhode Island Foundation.
Sunday, November 3, 2013 at 10:00am to 5:00pm
RISD Museum, Upper Farago, Spalter New Media, and Lower Farago Galleries
224 Benefit Street, Providence, RI
Event Type

Departments

Website