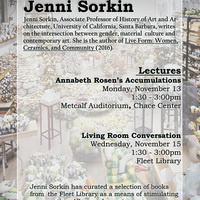 Living Room Conversations | Jenni Sorkin | Ceramic Department
Jenni Sorkin writes on the intersection between gender, material culture, and contemporary art. Her new book, Live Form: Women, Ceramics and Community (University of Chicago Press) was published in July of 2016. This project examines the confluence of gender, artistic labor, and the history of post-war ceramics. She has published widely as an art critic, and her writing has appeared in the New Art Examiner, Art Journal, Art Monthly, East of Borneo, NU: The Nordic Art Review, Frieze, The Journal of Modern Craft, Modern Painters and Third Text. In 2004, she received the Art Journal Award. She has written numerous in-depth catalog essays on feminist art and material culture topics.

Jenni Sorkin serves as Associate Professor of History of Art and Architecture, University of California, Santa Barbara.

Jenni Sorkin has curated a selection of books from the Fleet Library as a means of stimulating conversation. All are welcome to meet, talk, and peruse.
Wednesday, November 15, 2017 at 1:30pm to 3:00pm
Fleet Library (Main)
Mandle Building, 15 Westminster Street, Providence, RI