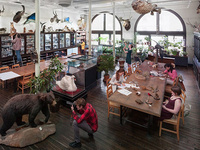 Live Animal Study 2017
Live Animal Study is back for 2017, and kids' tickets are half-price! Bring your young ones along with your sketchbooks & pencils to enjoy one of RISD's most beloved treasures, the Edna Lawrence Nature Lab - celebrating its 80th anniversary this year!
Enjoy a rare opportunity to study a handful of live exotic (and some not-so-exotic) animals up close and personal! Humane Educator and RISD alumna Laurelin Sitterly 03 IL will present on each creature's basic anatomy, movement, and habits that will be sure to inspire you and provide a wealth of knowledge for your animal-themed projects. Taxidermy and skeletal models will also be available to examine, courtesy of the Lab. This is an event to draw with your child, gather inspiration from the animal world, practice your craft amidst an active environment.
Advance registration is required and tickets are limited. Please contact RISD/RI Alumni Club Leader Christina Rodriguez 03 IL at christina.rodriguez@alumni.risd.edu with any questions.
About the Speaker
Laurelin Sitterly 03 IL has taught Humane Education for years in workshops, SPCA conferences, children's classes, summer camps, and animal control department seminars. A graduate of the Rhode Island School of Design, she lives and works in Providence, RI.
Sunday, May 21, 2017 at 2:00pm to 4:00pm
Edna Lawrence Nature Lab
13 Waterman Street, Providence, RI
Event Type

Departments

Website
Cost

$10 adults, $5 kids

Hashtag

Subscribe