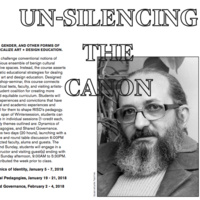 Lecture | Shared Governance | Interdisciplinary Studies
Please join us for an interdisciplinary lecture and roundtable discussion about how race, class, gender and other forms of identity can radicalize art + design education. The third in a series of lectures, Shared Governance is part of an interdisciplinary Wintersession course called Un-Silencing the Canon. This event features guests Debora Rafael Sergio Smith, IDEO; Thomas Gardner, MICA Social Design; Emily Watlington, MIT List Arts Curatorial Fellow; and Michelle Charest, faculty, RISD History of Art + Visual Culture.
These workshops will challenge conventional notions of diversity: the harmonious ensemble of benign cultural spheres of undisruptive spaces. Instead, the course asserts radical and antagonistic educational strategies for dealing with the old guard of art and design education.
Friday, February 2, 2018 at 6:30pm
Design Center, RISD Design Center Commons
30 North Main Street, Providence, RI