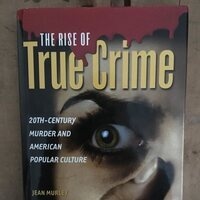 Literary Arts + Studies Lecture | Making Murderers
America is in the midst of a true crime renaissance, thanks to the breakout success of stories like Serial, The Jinx and Making a Murderer. With this as the backdrop, RISD's Liberal Arts Division – in conjunction with Literary Arts + Studies Lecturer Philip Eil's Wintersession 2018 class True Crime – presents a public lecture from one of the leading academic authorities on the history and evolution of the true crime genre: Jean Murley, author of The Rise of True Crime: 20th Century Murder and American Popular Culture.

Regarding the event, Murley says, "In this talk, I will describe the history of true crime as it appeared in mid-20th-century magazines through the 'paperback revolution' and into today's era of podcasts and internet sleuthing, charting the ways that murder—and murderers—are understood differently in each era."

And Eil adds, "Professor Murley is one of the very best people to explain the history and ongoing relevance of the true crime genre, and she does it in a way that's vivid, insightful and accessible. If you want to understand how true crime stories work, and why they matter, this is the event for you."

This event is free and open to all. Murley's remarks will be followed by a Q&A session.
Tuesday, January 16, 2018 at 7:00pm to 9:00pm
Metcalf Auditorium, Chace Center/RISD Museum
Chace Center, 20 North Main Street, Providence, RI