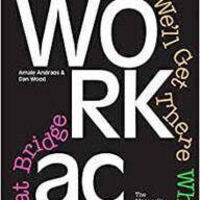 Visiting Architects | Lecture & Book Signing
Architects Amale Andraos and Dan Wood of the firm WORKac (WORK Architecture Company) present a lecture and exhibition and sign copies of their new book, We'll Get There When We Cross That Bridge, which surveys the projects that define WORKac as one of the most progressive and playful architecture firms in practice today.

Structured as a conversation between the two partners, the book alternates between explorations of seminal projects and discussions framing a series of issues that are key to their work. The book follows the firm's career over the course of three Five-Year Plans (Say Yes to Everything, Make No Medium-Sized Plans, Stuff the Envelope), examining the relationships between work and life, and the limits and opportunities of collaborative creativity and practice.
Thursday, February 22, 2018 at 6:00pm to 7:30pm
BEB (Bayard Ewing Building), Gallery & 106
231 South Main Street, Providence, RI