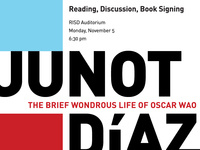 Junot Díaz: Reading, Discussion and Book Signing
The Division of Liberal Arts presents Pulitzer Prize-winning author and MacArthur Fellow, Junot Díaz, for a reading and discussion of his novel, The Brief Wondrous Life of Oscar Wao (2007).
Tickets required for entry into the RISD Auditorium. Ticket inquiries can be directed to Gail Hughes (ghughes@risd.edu) or Patricia Barbeito (pbarbeit@risd.edu) from Tuesday, October 30 - Friday, November 2. For those without tickets, there will be a stand-by area at the auditorium on the day of the event and a live broadcast of the event will be displayed in College Building, room 412. You may also watch a live webcast of the event on www.risd.edu/diazwebcast.
The Brief Wondrous Life of Oscar Wao tells the story of a family from the Dominican Republic struggling to make a new life for themselves in New Jersey and escape from the curse — the fukú — that has plagued them for generations. The novel's protagonist is an overweight, science-fiction-loving "ghetto nerd" named Oscar, who continues to believe in the transcendent power of love despite, or perhaps because of, the many tragedies endured by his family. Moving between Oscar's and his sister, Lola's, experiences as they grow into adulthood, as well as the history of dictatorship and torture experienced by their parents under the Trujillo regime in the Dominican Republic, the novel provides a meditation on identity, forms of freedom and oppression, and the role of art — fantasy, storytelling and creativity — in overcoming historical and familial traumas. It also addresses a number of broader themes, including the immigrant experience, bicultural identity and bilingualism; the politics and aesthetics of magical realism; the role of pop culture; enthusiasm and rationality; and the uses of history.
Copies of the novel, The Brief Wondrous Life of Oscar Wao, and Díaz's most recent collection of short stories, This Is How You Lose Her, are available for sale in the RISD Bookstore.
This event is part of RISD's Common Reading Program and is OPEN TO THE PUBLIC.
Monday, November 5, 2012 at 6:30pm
RISD Auditorium
17 Canal Walk, Providence RI
Event Type

Departments
Cost

free and open to the public

Hashtag

Subscribe