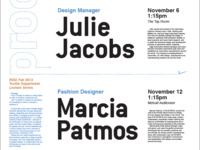 Julie Jacobs Lecture
Join Textiles in welcoming Julie Jacobs!
Julie Jacobs, Design Manager
Sage Automotive Interiors
Sage Automotive Interiors develops and manufactures innovative automotive body cloth and headliners for automotive manufacturers around the world. We are headquartered in Greenville, SC but have design, development and manufacturing locations globally.
As a graduate from the Rhode Island School of Design, with a BFA in Textile Design, Julie has worked in this industry since 1990, starting with Milliken and now Sage.
Her role is to globally manage the design of textiles for Japanese OEM production vehicles, to lead consumer and macro trend research and to guide the advanced design and development process of automotive interior materials.
Wednesday, November 6, 2013 at 1:15pm to 3:00pm
College Building, 446
2 College Street, Providence, RI 02903