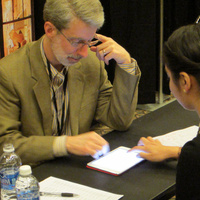 Career Program | Interviewing Workshop
Do you ever wonder what exactly happens during an interview? This is your chance to see how it's done so you can ace your next interview for an internship, job or career opportunity. Learn how to answer those all-important interview questions by watching mock interviews between RISD students and professionals. Find out what to ask and what to say about your portfolio and experiences as well as how to negotiate salary and benefits. Keep in mind that a resume may get you the interview, but the interview gets you the job!
Mobile Users: Click the 'Website' link you see below and then click 'RSVP here!' when you arrive at the new website window.
Tuesday, February 27, 2018 at 6:30pm to 8:00pm
Memorial Hall, The Tap Room
Event Type

Departments

Website