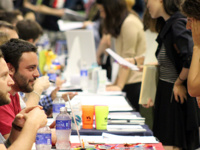 Internship Connect | RISD Careers
This is your chance to speak directly with companies and organizations seeking RISD interns! Learn about their internship opportunities and practice how you introduce yourself. Make contacts with key people and gain valuable tips on presenting a strong application. Come prepared with copies of your resume and portfolio samples to leave behind. Be sure to make a lasting impression and stay connected to the professionals you meet.

Mobile Users: Click the 'Website' link you see below and then click 'RSVP here!' when you arrive at the new website window.
Wednesday, October 11, 2017 at 4:00pm to 7:00pm
RI Convention Center