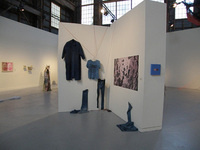 Indigo Girls w/ Travis Boyer
Indigo Girls is a performance that shifts the form of craft technique workshop towards a relational empathetic art-making environment. Artist Travis Boyer leads the craft-action demonstration with special regard for the participants' desires, cultural perspectives, and fosters creative improvisation. The day-long performance invites the public to bring anything they wish to dye, mainly clothing and fabric, but also wood, paper, baskets, or anything porous.
Since 2008 Indigo Girls appeared in public and private art institutions including Participant Inc, New York, Decordova Museum, Lincoln, Massachusetts, Victoria Craft, Melbourne, Australia, Kampnagle Theatre, Hamburg Germany, High Desert Test Sites, Joshua Tree, California, Yale University, New Haven, Connecticut, and Socrates Sculpture Park, Queens, New York
Travis Boyer (born 1979 Fort Worth, Texas) Is a New York based artist and holds a MFA from the Milton Avery Graduate School for the Arts at Bard College. Boyer has an extensive history of collective and individual practice derived from painting, textile and fibers arts disciplines. Boyer's interest lies in the transferable logic of fiber arts as it relates to painting, and the performative possibilities of textiles. Boyer's compulsion is to become part of the space and enact a heritage of ideas onto it through transitional geometry, soft architecture, and socio-kinetic sculpture. He has exhibited across the country, including Johannes Vogt Gallery, where he is represented in New York, Participant Inc., New York, John Connelly Presents, New York; Evas Arche, New York, Louis B. James Gallery, New York; SOMA Arts, San Francisco, Dumbo Arts Center, New York; and Andrew Krepps Gallery, New York; and internationally at Galleria Glance, Torino, Italy, Piso 51, Mexico City, and Kunstverein, Amsterdam, Holland, Stedelijk Museum, Amsterdam, Holland. He was among the first artists awarded the Fire Island Artist Residency. Boyer has been invited as guest lecturer and performer at Yale University MFA program, CCA, Oakland, California, and MICA, Baltimore, Maryland, where he currently teaches.
For more info, contact the Office of Intercultural Student Engagement at (x4957) or (ise@risd.edu).
Wednesday, May 8, 2013 at 12:00pm to 6:00pm
210 Benefit Street (across the street from Carr Haus & the Museum)
Event Type

Departments

Website