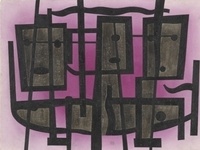 Historias: Latin American Works on Paper
On view at the RISD Museum through January 5, 2014
Artists such as Diego Rivera, Wifredo Lam, Sebastião Salgado, Liliana Porter, and Enrique Chagoya engage with a form of history—personal, cultural, art historical, and political—as a vehicle through which to develop a distinctly Latin American identity. The featured works in Historias pay tribute to the pre-Columbian origins of the continent, comment on recent political upheavals, and enter into a conversation with art of the European traditions. Their diverse sources, ranging from the Renaissance canon of proportions to Spanish satirical poetry and 20th-century art historical trends of abstraction and Surrealism, point toward the complex and multifaceted cultural traditions of the continent.
RISD Museum, 224 Benefit Street, Providence, RI. For more information, visit risdmuseum.org or contact the RISD Museum at 401 454-6500 or museum@risd.edu.
Image: Carlos Mérida, Kavec, Nihau y Alam, 1966. Nancy Sayles Day Collection of Modern Latin American Art. © Carlos Mérida.
Sunday, January 5, 2014 at 10:00am to 5:00pm
RISD Museum, Buonanno Works on Paper/Tsiaras Galleries
224 Benefit Street, Providence, RI
Event Type

Departments

Website