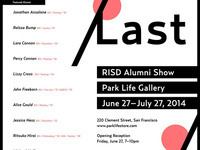 FIRST/LAST Opening Reception
Join us for the opening reception of FIRST/LAST, a RISD Alumni Show at Park Life Gallery in San Francisco.
FIRST/LAST Opening Reception
Friday, June 27
7:00 pm to 10:00 pm
Park Life Gallery, 220 Clement Street, San Francisco
RSVP on Facebook
FIRST/LAST brings together a diverse collection of RISD Alumni, framing their work in the context of two questions: What was the very first step in your process, when you decided to stop thinking and start making? And then, what was the very last step, the final touch when you knew the piece was complete?
Featuring:
Jonathan Anzalone 03 PT
Raissa Bump 03 JM
Lara Cannon 06 IL
Percy Cannon 06 PT
Lizzy Cross 04 PT
John Freeborn 99 BArch
Alice Gould 93 PT
Jessica Hess 03 IL
Ritsuko Hirai MFA 08 TX
Michael Neff 04 PH
Mel Prest 91 PT
Elizabeth Thorpe 07 SC
We hope to see you there!
Friday, June 27, 2014 at 7:00pm to 10:00pm
Park Life Gallery 220 Clement Street, San Francisco, CA